alfi

® Designer
PEARL CREATIVE DESIGN
For the past 15 years, innovative ideas have been developed in a close collaboration between alfi® and PEARL CREATIVE and have been implemented into appealing, high-quality products.
Discover more about the designers

"Designing for alfi® always follows one goal: Creating modern classics.""
Tim Storti, PEARL CREATIVE, Designer
ABOUT THE DESIGNERS
PEARL CREATIVE DESIGN
Tim Storti and Christian Rummel studied Industrial Design at the Pforzheim University of Applied Sciences together at the same time and after receiving their diploma, they worked for several years at the internationally renowned design studio Phoenix Design in Stuttgart. They teamed up to establish the Design Studio PEARL CREATIVE in Ludwigsburg near Stuttgart in 2000.
Together with their international team, they have been successfully combining the key factors STRATEGY, INNOVATION and DESIGN with the brand essence of their customers, forming unique, successful products for more than 20 years. Sustainability and user experience − the customer experience − are the key elements of any development. The fact that this approach has been working is evidenced by the successful collaboration with alfi® in product development and product range consulting that has been in place since 2006.
Not only does PEARL CREATIVE maintain these long-term and mutually trusting relationships with alfi®, but also with other well-known companies such as Brita, Kärcher, Bosch, Siemens, WMF and Blanco Professional. The more than 80 design awards that have been received in various industries underline the quality of the designs created by PEARL CREATIVE.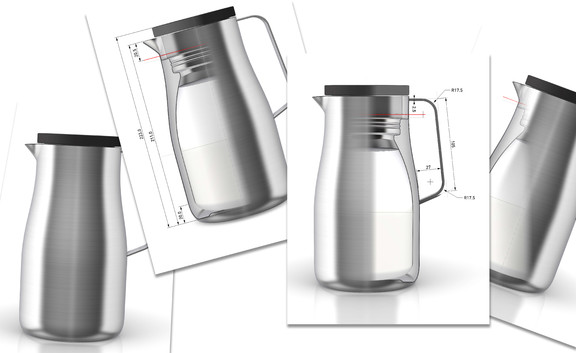 alfi

® PROJECTS
DESIGN BY PEARL CREATIVE
In the SKYLINE and STUDIO insulated carafes, PEARL CREATIVE for alfi® combines the long design tradition and the well-known quality standard with a timeless, appealing design language to create modern design classics. This new, brand-typical design language gives the range of insulated carafes an unmistakable overall appearance, shaping the alfi® design language of the future.
With the ISO BOTTLE and the ENDLESS LINE yet more appealing to-go products have been added to the alfi® range. This is where functionality, attractive appeal and sustainability meet in a unique, signature brand way.
Yet another highlight in the application of innovative, user-focused design processes is the ISO BAG. With this family of products, PEARL CREATIVE has successfully introduced an especially innovative product solution. Unique, stylish and by far the most flexible and useful shopper bag on the market. Today it is already a true classic, unparalleled in nature.
ALL PROJECTS
Element Bottle drinking bottle(2010)

Element Bottle II drinking bottle (2014)
Iso Bag cooler bag (2015)
Iso Wrap bottle cooler (2015)
Glass Motion drinking glass (2015)
Coffee Motion glass carafe (2015)
Motion silicone base (2016)
Tea Motion glass carafe (2016)
Store Motion storage jar (2017)
Iso Bottle insulated drinking bottle (2017)
Iso Bag Compact cooler bag (2019)
Studio insulated carafe (2019)
Skyline insulated carafe (2019)
Endless Iso Bottle insulated drinking bottle (2020)
Endless Bottle drinking bottle (2020)
Endless Food Mug insulated food jar(2020)
alfi

® PRODuCTS
BUY DESIGN BY PEARL CREATIVE NOW