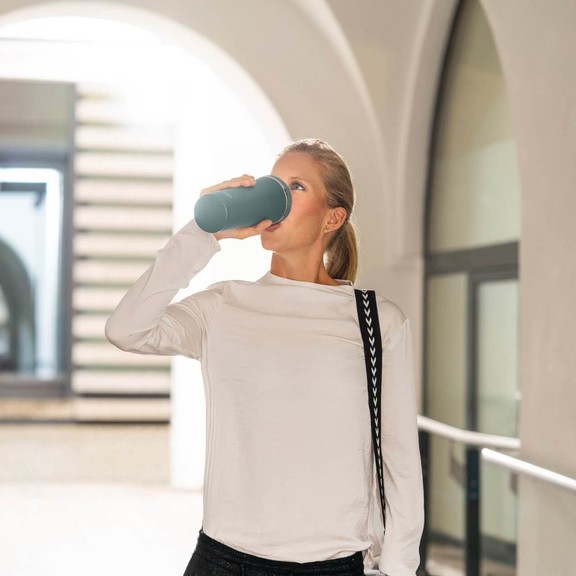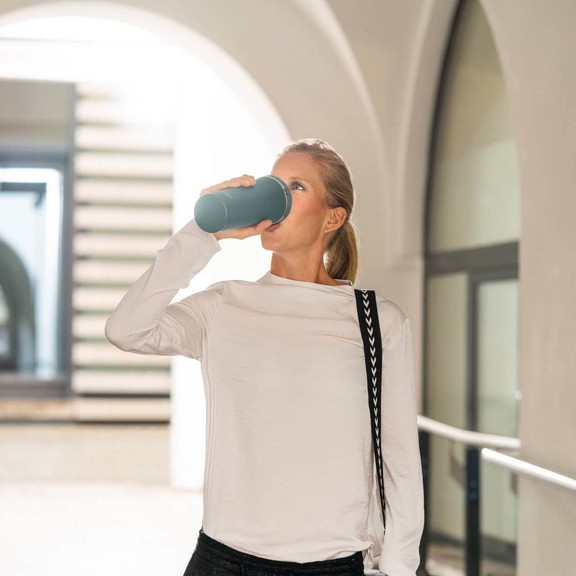 GOOD MORNING WITH COFFEE TO GO
Every morning many of us just can't do without it: a hot coffee beverage to wake us up. We love the liquid gold too, but we don't want to enjoy our drinking pleasure at the expense of the environment. In 2019 alone, close to 2.8 billion disposable cups were consumed in Germany! We are much better equipped with a durable insulated mug made of stainless steel. Whether we fill it up ourselves at home or at the bakery around the corner that often advertises with discounts for those who bring in their own mug: you can fully enjoy your hot beverage without feeling guilty and generating unnecessary waste!

Tip: If your wake-up beverage of choice is teein instead of caffeine, you'll be especially pleased with our BALANCE TEA MUG. The reusable mug made of stainless steel has an integrated tea bag hanger in the lid, allowing the tea to steep comfortably on the go.
DRINKING UNPACKAGED WATER
Staying hydrated throughout the day keeps us fit and improves our performance. When it comes to our pocketbook and the environment, drinking tap water is worthwhile over packaged beverages in plastic bottles. Because in Germany we are lucky: water from the tap is safe to drink here, inexpensive and tasty at the same time. If you prefer bubbly rather than still, you can opt for a water bubbler. No matter your preferences, our (insulated) drinking bottles keep absolutely tight, even when carbonated.
Our ENDLESS BOTTLES are especially beautiful and practical. The stainless steel bottles hold 0.9 liters of juice spritzer or mineral water, and the stylish sleeves add a bit of color and make it easy to tell different bottles apart.
Tip: Some cities are increasingly offering drinking fountains or refill stations. So keep your eyes open and always take your water bottle with you when you're out and about shopping.
TO THE INSULATED DRINKING BOTTLES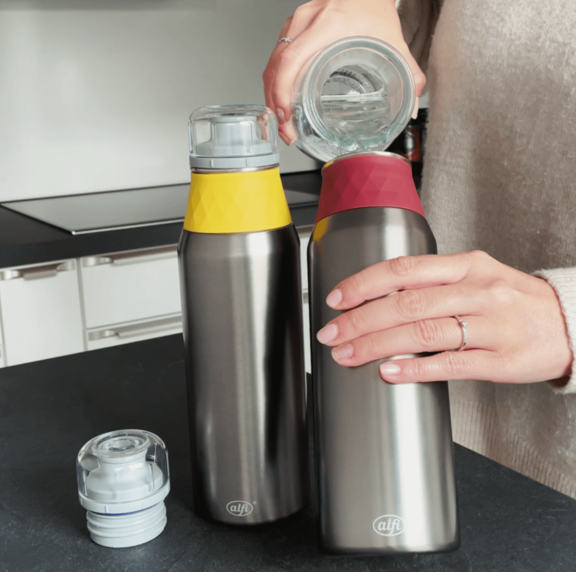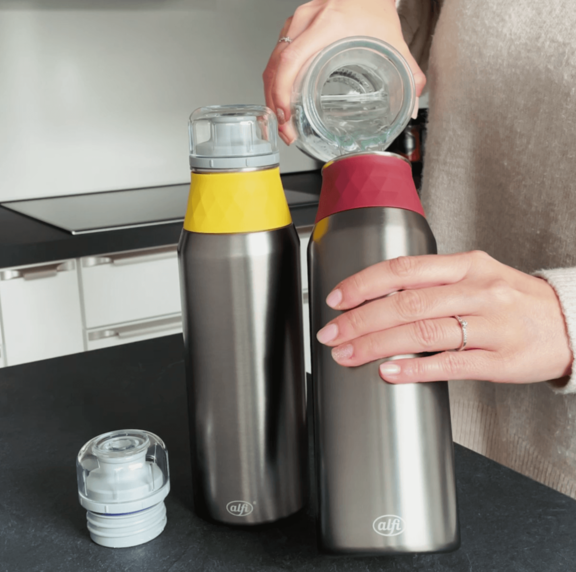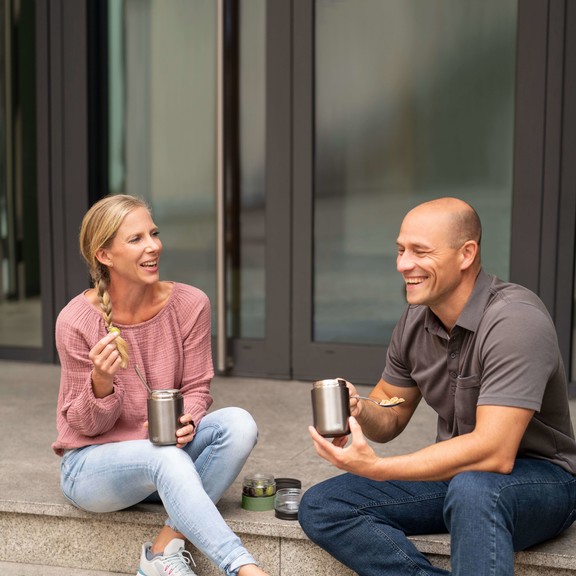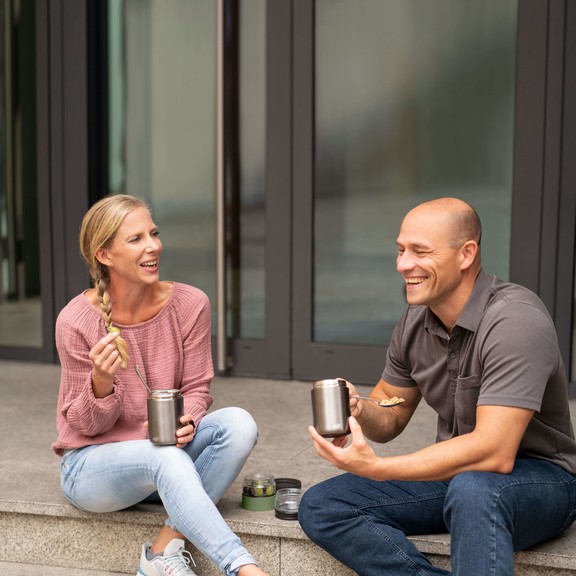 HEALTHY LUNCH NO MATTER WHERE
Eliminating unnecessary disposable plastic and waste is one way to bring more sustainability into your everyday life. Throwing away food especially and recycling leftovers can also make a significant contribution. So just like that, we can take yesterday's dinner to work in our stainless steel food mugs to enjoy our lunch break wherever we want. Our ENDLESS FOOD MUG is ideal for those who don't like one-size-fits-all meals: the practical snack pot lets you separate pasta from sauce, for example, so that everything stays al dente.
By the way, you can find the perfect recipes for our insulated mugs for food in our online magazine. Together with Mr. Grün, the creative food artist from Hamburg, we regularly develop vegetarian dishes that are especially good to take on the go.
PREPARED FOR DRINKING PLEASURE ALL DAY LONG
A warm cup of tea brings relaxing downtime to your desk. Even if things become turbulent at home or in the office, our favorite hot beverage is always waiting for us at the perfect temperature for your drinking pleasure. Not only does it look nice, and automatically reminds us to drink more, but even saves electricity: it's actually less expensive to prepare a insulated carafe than to run to the vending machine for every cup of coffee or tea.
If you choose a fairly traded tea or coffee as content, that's even more sustainable. Loose tea in particular is ideal, as it reduces packaging in larger quantities. With our reusable AROMA COMPACT tea filter, you can brew it conveniently in a vacuum carafe.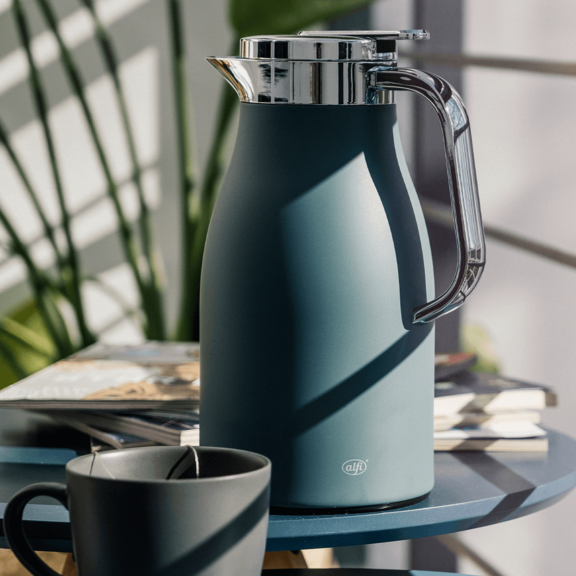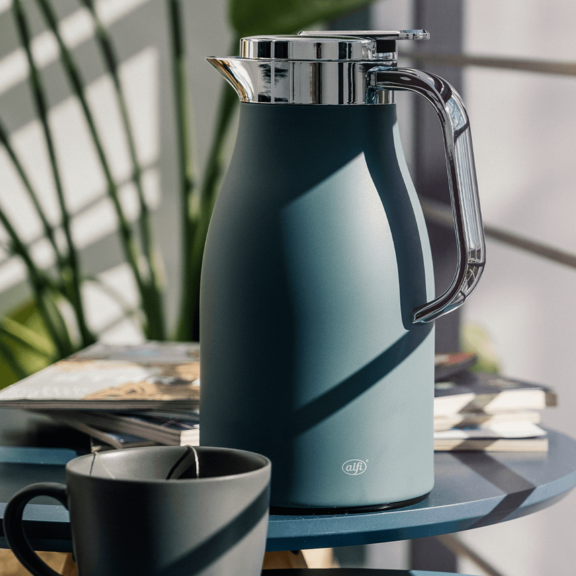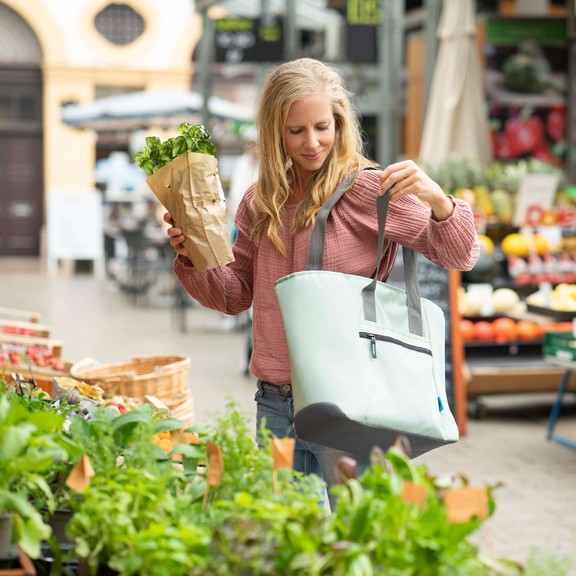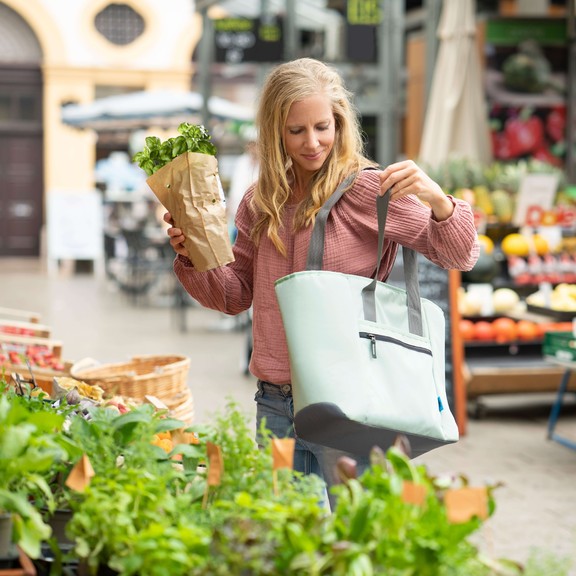 SHOPPING PLASTIC-FREE
Bye bye plastic bag! As of January 1, 2022, the German government has issued a ban on lightweight plastic carrier bags. An important step to protect our environment from plastic waste! A sensible alternative are jute bags and the like. Especially at weekly markets or at your local farmer's, larger carrier bags are even more practical. Our ISO BAG COMPACT offers an additional insulating function: the bag looks stylish like a shopper, but keeps the content freshly cooled. Especially practical for yogurt or fresh vegetables!
A true versatile solution: the bag is not only perfect for shopping, but thanks to the tightness is also excellent for swimming pool or sports equipment.
DISCOVER SUSTAINABLE

alfi

®FAVORITES